Ayres Painting Co.
Leonard Ayres, along with his wife, Mary Jo, started Ayres Painting in 1980. Mary Jo ran the office while Leonard attended to on site matters.
Leonard's honesty, detail, and, of course, his sense of humor have sustained the business through the years.  His dedication to his work was something that his children watched and learned every day as they grew. Now, they are proudly continuing his work.
Amber (Ayres) Writt is the President and office administrator. She began working for the business after graduating from UW-Madison in 2005. Her organizational skills and personal attention to all office issues assure you will receive the utmost in customer service.
Brian Writt has been with the company since 2002 and General Manager since 2008. His previous painting experience and innate mechanical skills made for a true fit with the company. After attending UW-Madison, he took over Leonard's role. Amber and Brian have two daughters and make their home in Dane, Wisconsin.
Wesley Ayres began working for the company in 1997. He is currently head of scheduling.  Wesley's many years of experience make him an extremely skilled, attentive and unheedingly honest part of the company.
Wesley, his wife Kristin and their three sons live in Middleton.
SUPERVISORS
Great care has gone into finding and training our supervisors. Not only are they highly skilled and experienced, they also are great people.   Being  genuine and friendly are qualities we look for in our leaders. It is a true pleasure to get to be a part of their lives and families.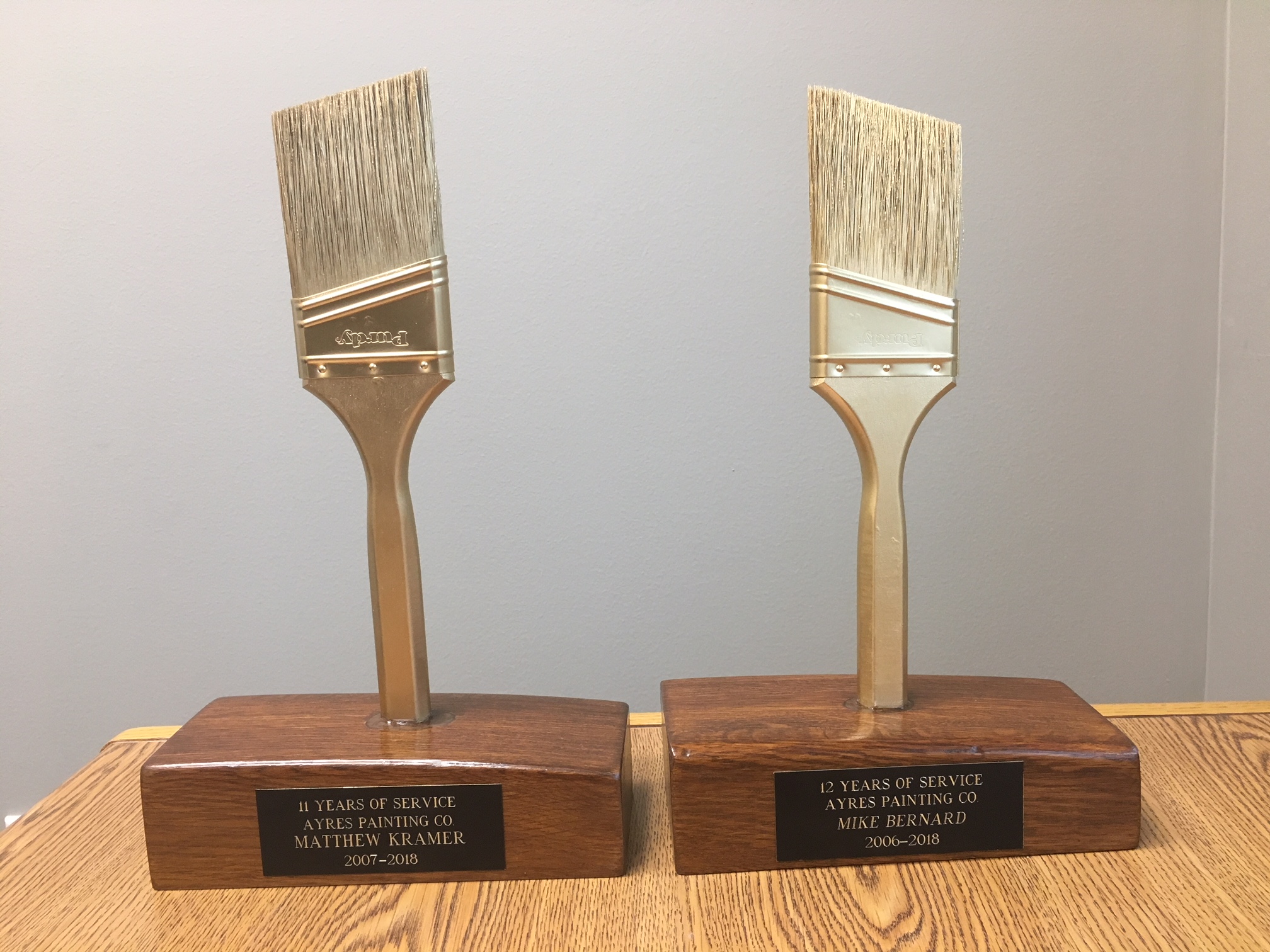 GOLDEN BRUSHY AWARDS
Congrats to Mike Bernard and Matt Kramer on their impressive years of service with Ayres Painting Co!
GIVING BACK TO THE COMMUNITY
Ayres Painting Co. strives to donate time, money and materials whenever possible.
We have supported the following:
Madison Community Montessori School
2015
2016
2017
2018
2019
2020
2021
Girl Scouts of Wisconsin
2014
2015
2016
2017
2018
2019
2020
VFW
Wounded Warrior Project
Habitat for Humanity ReStores
The Rainbow Project